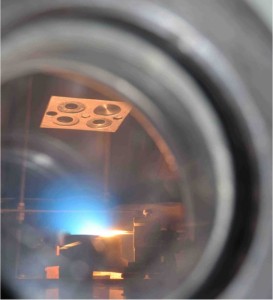 The Plasma Coatings Group is part of the Low Temperature Plasma Laboratory of the National Institute for Laser, Plasma and Radiation Physics in Bucharest, Romania.
The group is led by Dr. Carmen Cristina Surdu-Bob since October 2008. She is specialized in surface-plasma interactions and holds a PhD from Aston University – UK.
We are specialized on deposition and characterization of metallic, semiconductor and Diamond-Like Carbon (DLC) films for both research and industry, using original plasma sources based on the Thermoionic Vacuum Arc (TVA) plasma [C. Surdu et al., General characteristics of
the Thermoionic Vacuum Arc plasma, Journal of Optoelectronics and Advanced Materials, 9, 2932-2934, 2007].
We can deposit thin and thick films (0.004 – 10) μm of any metal and non-metal in the Periodic Table, nitrides, oxides and also Diamond Like Carbon DLC, pure or in any combination of two elements. The deposition can be made on different substrate materials: metals, glass, ceramics, plastics etc, in a temperature range from room temperature up to 350°C, depending on the specific application.
For more details, please do not hesitate to contact us.
Our research is mainly sponsored by the Romanian Ministry of Research.
Last updated: 26.07.2023